Livewire is a breakthrough labor management tool for the hospitality industry that seamlessly connects labor scheduling with live sales and wage cost data. 
Delivered as a premium module within Harri's TeamLiveworkforce management platform, Livewire integrates with leading point of sale systems and automates the collection and analysis of data. This tool empowers businesses to measure employee performance and transactions across multiple locations. 
Livewire consolidates and compares labor costs in real time on an easy-to-use, mobile-first platform.
At the bottom of the screen, you can choose to view total sales as a group, or by individual location. The pie chart on the right shows how your sales are broken down by specific item. This will help you determine your top selling items.
To view employee performance, click on "Employee Performance" from the individual location performance dashboard. This dashboard will track keep performance indicators for all your staff.
** Please note. This feature must be turned on and integrated with you POS system. Contact your account manager at support@harri.com if you haven't done so already. 

How to Set up Livewire: 
From your TeamLive dashboard, click on "Performance" on the top menu
The Livewire dashboard will open. If you have multiple locations, you can see a snapshot view of the performance across all your enterprises.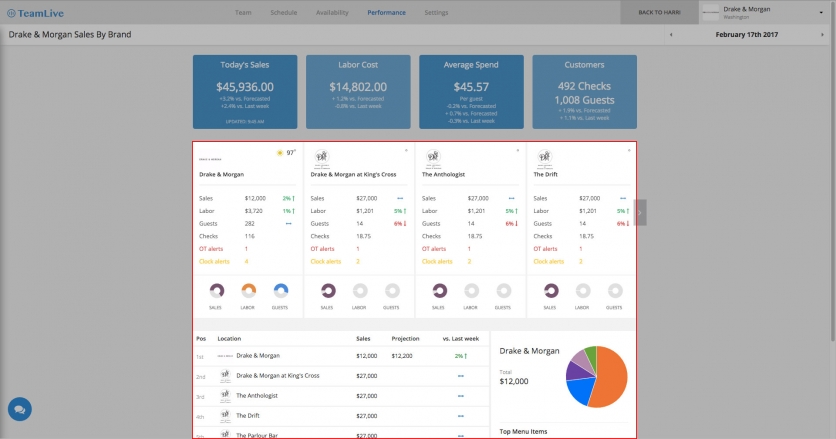 These alerts were created so that you could easily track labor costs and stay 100% compliant with labor laws. Since Livewire syncs with Time Clock, you can easily monitor the clock in and clock out times for all your employers and receive alerts if any of your employees are close to surpassing thresholds set by the HR manager.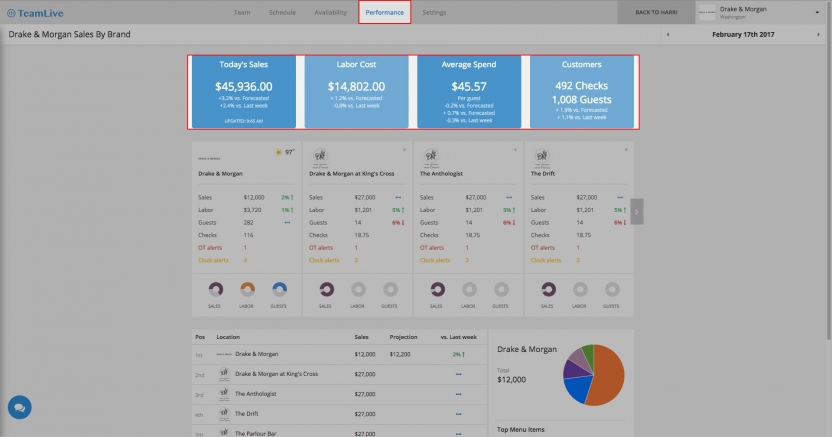 From this dashboard, you will easily be able to compare the following at a glance:
Today's Sales - The forecasted sales projection you have entered in the scheduler vs. real time sales information inputted by your POS.
Labor Cost - Forecasted labor cost projection entered into your scheduler vs real time clock in/clock out.
Average Spend- Calculated the average spending amount per guest in real time, against the forecasted total amount.
Customers - The total number of checks and guests information.
Each of the blue boxes at the top of the page will compare today's numbers to last week's numbers.
These columns in the middle of the dashboard give you a snapshot view of each of your properties, displaying all the same information listed above in real time. 
To get a better view of the performance of a specific location, simply click on the top right corner to select a specific location you would like to view.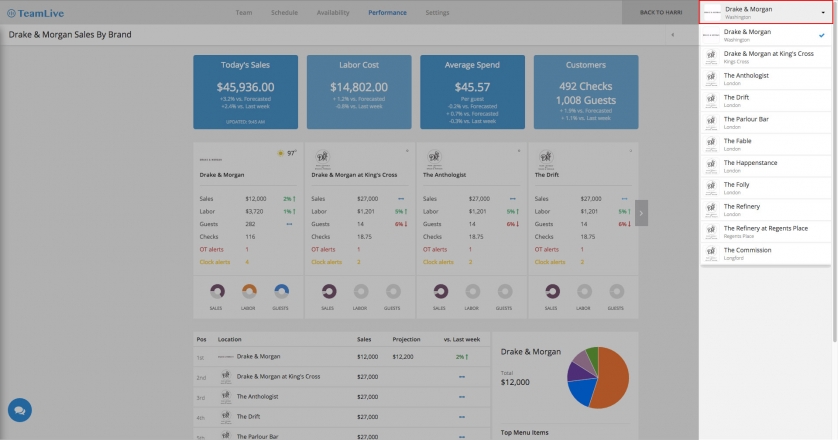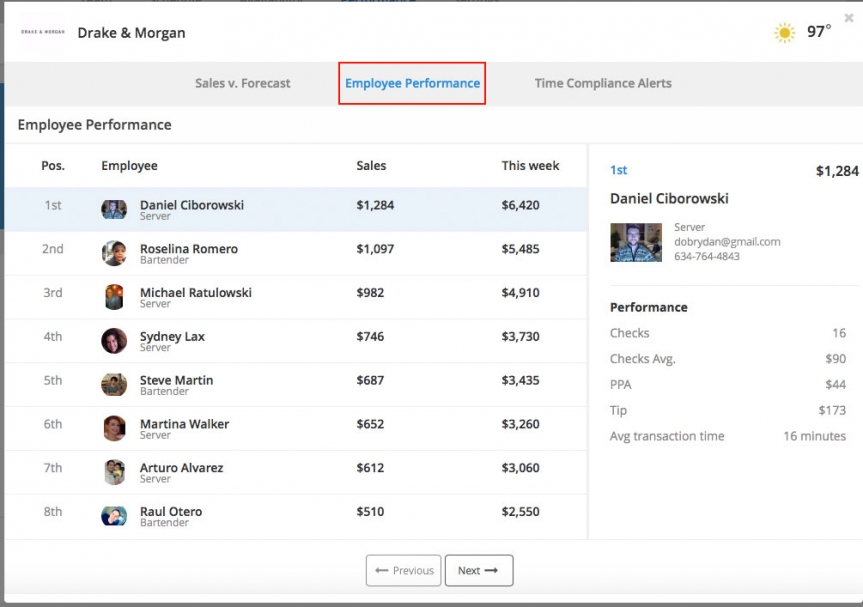 Once you've chosen the location you want to learn more about, a window with all of the it's performance stats will open.